Table of Contents – Module 2: February 2021:
Hello Friends!! Further to our Module 1 of the Refresher course published in February 2021, we would continue with Module 2 here. Hope you enjoyed the Module 1 and found it helpful.
1. Do we really need FRC?
This is a question which we will always be tempted to ask is that requirement really necessary for our company and the work environment? After all, no one at my company has got hurt in my entire working career. Aren't these rules a little too extreme?
While this is understandable, it is still important to realize that the rules and regulations are there for important reasons – your safety, the safety of your co-workers and also to avoid any financial losses to the employer due to any accidents.
OSHA mandates FR clothing and its usage in industrial applications and the organizations that will hesitate to implement its usage can be fined heavily by the authorities.


While it may be expensive for the employer to outfit their workers in appropriate FR clothing, it can easily be even more expensive for them if an employee is severely injured during an accidental fire within the work premises. The medical cost, worker's compensation, training temporary replacement workers and other related expenses will usually far outweigh the cost of protecting the employees in the first place.
2. What happens if my company and I do not comply with the FR standards?
As mentioned in the previous section, you and your employer may feel OSHA's rules and regulations are excessive, hinder productivity in your workplace, are inconvenient or any other number of grievances. Based on these feelings if you refuse to comply with the safety standards regulating the use of FRC, what would the consequences be?
OSHA will take note of your company's inaction when it comes to providing a safe working environment for its employees. If your company refuses to comply with their standards, they may fine your company, or even pursue further legal action. You may also be at risk for litigation from other sources as well. In almost every possible scenario, it is safer and more cost-effective just to abide by OSHA's guidelines regarding the use of FRC.
3. How long does FR clothing last?
It is impossible to make a blanket statement concerning the longevity of every single piece of FRC. The clothing lifespan may be affected by multiple factors such as the manufacturer, the quality of the garment and the type of fabric used, how often you wear and wash the garment and how much wear and tear it experiences.

Typically, you need to replace your FRC when it is damaged beyond repair or has been contaminated badly or is no longer functional for the risks that it intends to protect you from. You can also replace it when it suffers aesthetic damage but that is more of a personal decision.
If you are concerned your FRC would not last as long as you like, you should take care which manufacturer you purchase them from. Some companies will use more durable fibers, fabrics or different construction techniques that help the garments last longer. The employer and the end users should be aware that every FRC carries a suggested wash care instruction, which has to be strictly followed for a longer life span.
4. Caring for my FRC?
While everyone's job is slightly different, it is highly likely that you are going to put your FRC through some demanding conditions while at workplace. As a result, you are going to have to clean your FRC on a fairly regular basis.
Let us break that into smaller sections as we talk about the specific ways you can clean and care for your fire-resistant clothing.
5. How to wash and dry FRC?
Home laundry is a safe, cost effective washing system which can help extend the service life and the protective qualities of the FRC. Laundering instructions are primarily designed to help get the clothing clean, minimize shrinkage, extend useful life and provide guidance on what should be avoided like introducing substances that may compromise FR properties such as bleach or fabric softeners.
First and foremost, you should strictly follow the instructions on the garment labels.
Additionally, the following guidelines should be considered while washing the FRC:
Wash in warm water. For heavily soiled garments, wash in the hottest temperature allowed on the care label. Do not exceed the washing temperature as mentioned on the label in any case.
Use small loads, if possible – this helps in reducing the wear and improves cleaning quality.
Wash FRC inside out and separately from everyday clothing

Tumble dry on low setting – drying garments at high heat can cause excessive shrinkage and harden the feel of the garment.
Try spot-treating stains with detergent prior to washing.
Perhaps equally as important as knowing what you should do is knowing what you should not do when home laundering FR clothing.
Do Not Use:
Liquid chlorine bleach
Fabric softener
Detergent with fabric softener
Oversized wash loads
FRC washing program in big industries is generally governed through the Industrial laundries. Industrial laundry refers to laundering activities on a large scale. An industrial laundry can either be an On-Premise-Laundry or an independent laundry company that offers washing services to a number of companies. Large institutions (hotels, hospitals, industries) that usually require a constant flow of clean linen, work wear or uniforms can thus employ the services of an industrial laundry. Even if your employer has hired an Industrial Laundry company to wash & supply FRC, the care instructions that you intend to be used on your FRC has to be pre-defined to these service providers and have to be ensured for best efficacy of the performance levels and long life for the garments.
For any concerns about the wash instructions for your FRC, we recommend looking at the labels/tags attached to the FRC.
6. Can you dry-clean FR clothing?
Yes, you can dry-clean your FRC with no adverse effects. However, since you can easily wash them at home using your normal washing machines, there is no particular need to have them dry-cleaned. However, if you prefer to take them to the dry cleaner, there is no reason you cannot safely do so.
7. How many times can you wash your FRC?
Most flame-resistant clothing is built to be tough and to withstand a lot of wear and tear. Therefore, a few trips through the washing machine are not likely to damage it. You should feel confident in washing your FR garments as often as needed. Unless you are using any of the items we discussed above that are not recommended — such as fabric softener or bleach — you should wash your FRC strictly as per the wash care instructions defined by the FRC manufacturer on the garment labels.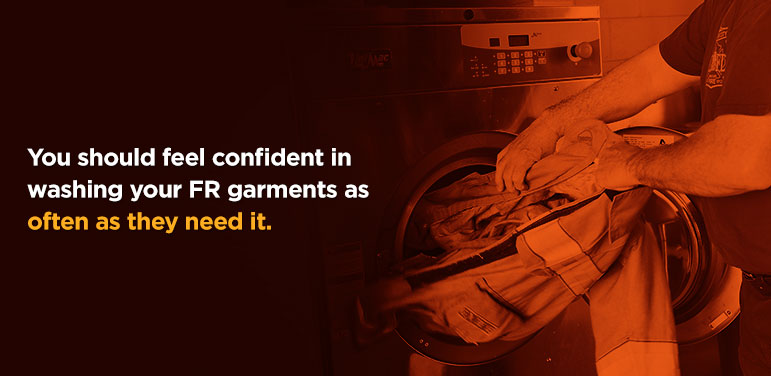 8. How can FR clothing be repaired?
When FRC gets damaged, you may immediately wonder if there is a quick and easy fix you can apply so you can get your garments back on the job again. It is true that you can repair damaged FRC, but it is a little bit more complicated than getting out your sewing kit and patching a hole.
Correctly repairing FRC is very important to avoid any scope of accidental injury to the wearer. The FRC will need to be consistent with the original materials used to create the garment so the entire piece retains its performance attributes. Repairing FRC with anything and everything available in hand can lead to major trouble in case of accidental exposure to flame & heat. Use of non specified materials can result in the entire garment being compromised and failing to protect the wearer on the job.
If you are not equipped to handle this level of repairs, it is best to contact the manufacturer directly. They will be able to complete the repairs with the proper material so that FRC is able to protect the wearer while on work.
9. When does the FRC need to be replaced?
While there are certainly some cases in which your FRC is damaged but easy to repair. There are also cases where the garments are damaged beyond repair. When this happens, there is nothing to do but to discard the garments and buy replacements.
Here are few of the key warning signs, where it is clear to retire your existing FRC and get a replacement:
The FRC has torn off or has generated holes that are too large to be repaired safely and correctly.
The fabric itself is too worn and threadbare to provide adequate protection against the environmental hazards you will encounter.
The garments have been stained with flammable substances to an extent that cannot be cleaned by washing/laundry.
The garments have been accidentally washed using materials which have been restricted by the manufacturer.
The FRC has been exposed to a heavy electric arc or other damaging accidents during heavy industrial welding where the strength of the garments might have been subjected to a major load and thus effecting its efficacy.
The above are just few examples where the FRC can get damaged and use thereafter in service might lead to accidents. However, the wearer has to ensure that he is inspecting the FRC before wearing and offering his services on work for any damages and getting suitable timely replacements from the employer.
However, keep in mind that you will not have to replace your FR clothing because the flame-resistant qualities have worn out. Since flame-resistant fabrics have an inherent chemical structure that makes them self-extinguishing, this property will not wear out over time. And even though flame-retardant clothing has been treated to achieve these same properties, most manufacturers provide a lifetime guarantee, meaning the qualities will not wear off in this case, either.
We have tried to cover major topics during this refresher course, spread over 2 months, for a better understanding of each aspect of the FRC. Hope this has been quite a helpful course for all our readers.
You can feel free to contact Tarasafe team in case of any issues pertaining to your FRC program. We will be more than happy to assist you in making your workplace a safe haven for all the stake holders.
Stay Safe…. Stay Healthy… Stay connected…..